Microsoft Power BI is a suite that is a collection of business intelligence tools such as software services, apps and data connectors. It is a cloud-based platform used to consolidate data from varied sources into a single data set. These data sets are used for data visualisation, evaluation, and analysis by making sharable reports, dashboards, and apps.
 Microsoft offers three types of Power BI platforms i.e. Power BI Desktop (a desktop application), Power BI Service (SaaS i.e., Software as a Service) and Power BI Mobile (for iOS and Android devices).
Power BI can be deployed both on-premise and on-cloud. It can also import data from local databases/data sources, cloud-based data sources, big data sources, simple Excel files, and other hybrid sources. Thus, Power BI, a leader amongst a lot of other BI tools proves to be an efficient and user-friendly tool for data analysis. It enables the users to consolidate data from multiple sources, make interactive dashboards, evaluate data, create informative reports and share it with other users.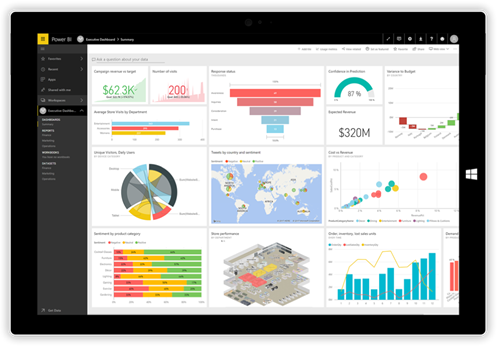 Features
Get started in seconds
Sign up for free and start monitoring your data. No setup, no credit card, no training. With our simple out-of-the box dashboards for services like Salesforce, Google Analytics, and Dynamics, you can get insights from your data in no time.
All your data, wherever it is
Excel spreadsheets, cloud services, streaming data, and on-premises databases — no matter where your data lives or what form it's in, you get a holistic view of the key metrics for your business.
Be informed: always real time
Instantly know when your business needs your attention with real-time Power BI dashboards. Solve problems as they occur and seize opportunities as soon as they arise.
Ask questions, get answers
Imagine asking "What were last year's sales by product?" and getting a stunning, interactive visualisation as an answer. With Power BI, you ask questions in natural language and get the right charts and graphs as your answer.
Curated content, just for your organisation
Create and publish content packs to your team or your entire organisation. Your Power BI apps include dashboards, reports, and datasets that provide every user with a personalized view of their business metrics that matter most.
End chaos: Everyone on the same page
Empower your team to make quick, confident decisions with a single view of your business. Power BI Groups lets you collaborate with key stakeholders to ensure that everyone uses the right data.
Make data-driven decisions, from anywhere
Keep on top of your data no matter where you are. With touch-enabled native apps for Windows, iOS, and Android, you can access all your data wherever you go.
Integrate with Power BI
Use our open, standards-based REST API to integrate your application or service with Power BI. Integrating helps you deliver your solutions faster while focusing on your core value.
Share your insights on your website or blog
Tell your data story with Power BI publish to web, and reach millions of users on any device, in any place. Combine your data sources, create stunning visualizations with ease, and embed your story on your website in minutes.
With Power BI Desktop, you can:
The Power BI Desktop makes discovering data easy. You can import data from a wide variety of data sources. After you connect to a data source, you can shape the data to match your analysis and reporting needs.
Create relationships and enrich your data model with new measures and data formats
When you import two or more tables, oftentimes you'll need to create relationships between those tables. The Power BI Desktop includes the Manage Relationships dialog and the Relationships view, where you can use Autodetect to let the Power BI Desktop find and create any relationships, or you can create them yourself. You can also very easily create your own measures and calculations or customise data formats and categories to enrich your data for additional insights.
The Power BI Desktop includes the Report View. Select the fields you want, add filters, choose from dozens of visualisations, format your reports with custom colours, gradients and several other options. The Report View gives you the same great report and visualisations tools just like when creating a report on PowerBI.com.
With the Power BI Desktop, you can save your work as a Power BI Desktop file. Power BI Desktop files have a .pbix extension.
Upload or Publish your reports
You can upload the reports you created and saved in the Desktop to your Power BI site. You can also publish them to Power BI right from Power BI Desktop.