What is TGM Monkey Calendar?
TGM Monkey Calendar is a flexible and efficient solution which improves the scheduling capabilities of Microsoft Dynamics CRM. It provides the following functionality:
Filter appointments by teams and users.
Right clicking an appointment will show the owner and attendees. This removes the need to navigate back and forth to find this information.
Fits seamlessly with the user interface. Appointment records can be opened in the same browser window.
Customisable colour-coding of appointments.
Create appointments from within TGM Monkey Calendar.
Drag and drop enables users to quickly change the date of an appointment.
How does it work?
When TGM Monkey Calendar is added to the system, CRM users can begin to manage appointment records.

Filtering can quickly be changed using the team and user checkboxes.

A colour picker tool is added to the user, team and appointment form.

The filtering process will look for records where the selected users are attendees or the owner of an appointment. It will also look for appointments where the selected team is the owner of the appointment, or a member of that team is an owner or attendee of the appointment.

For improved user experience, monthly, weekly and daily calendar layouts are available.
Month View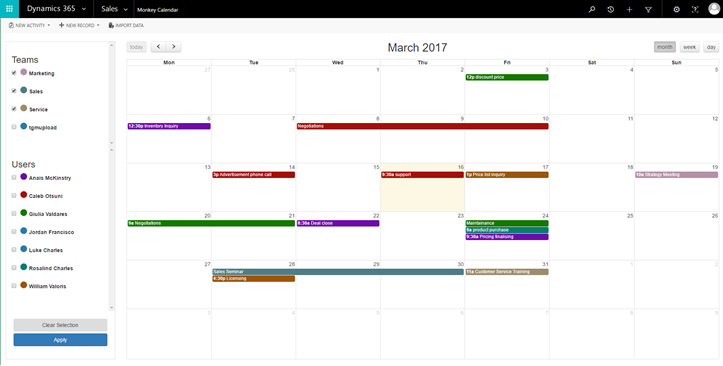 Week View
Day View