Three Grey Monkeys has been announced as a Infinigate Cloud Awards Business Applications Partner of the year Winner for 2023.
This is the second year we have won the award thanks to the hard work of all the Monkeys, especially Banjo our adopted Monkey who with the help of Chat GPT helped put together our application. #AI 
We were up against strong competition again and it was a great evening meeting some of the other partners who work closely with Infinigate.
UK Business Applications Partner of the Year Finalists
Three Grey Monkeys - Winner
Power 365 Solutions
PCL Group
Snowden Consulting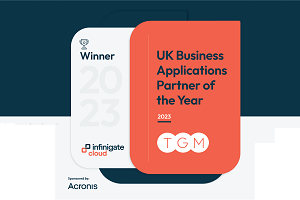 Want to keep informed?
Recent Articles
View all Articles
Popular Tags
Contact Us
Business Hours
Monday-Friday: 9.00am to 6pm
Our
Featured

Clients and Partners

Here are just a selection of our Partners and Clients
World Animal Protection

Thirdway Interiors

Denver Zoo

Vuzion

Click Dimensions

Barracuda