Relevance Search is here as we announced in the Dynamics 365 October 2018 Update
This is now available to improve the accuracy and context of searches which include notes and attachments.
Relevance Search delivers fast and comprehensive results across multiple entities in a single list, sorted by relevance. It uses a dedicated search service powered by Azure to boost Dynamics 365 search performance.
Relevance Search Improves performance with external indexing and Azure Search technology. It also finds matches to any word in the search term in any field in the entity. Matches can include inflectional words like stream, streaming, or streamed.
How to Setup Relevance Search
To enable Relevance Search in Dynamics 365, go to Settings, Administration, System Settings. From the general tab if you scroll down there is a Search section where you can enable Relevance Search.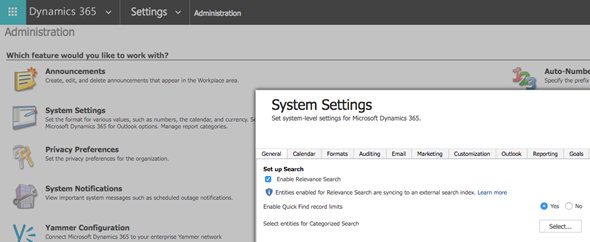 Once enabled you have options to configure which entities you wish to use it for. If you go to Settings > Customization > Customize the System (or solutions if you want to add the entities into a solution to migrate the changes).
You will then see a 'Configure Relevance Search' button where you can select which entities to include.

Microsoft article on how to setup relevance search
How to Setup Relevance Search Video
A really awesome video will appear here very soon!
Want to keep informed?
Recent Articles
View all Articles
Popular Tags
Contact Us
Business Hours
Monday-Friday: 9.00am to 6pm
Our
Featured

Clients and Partners

Here are just a selection of our Partners and Clients
World Animal Protection

Thirdway Interiors

Denver Zoo

Vuzion

Click Dimensions

Barracuda