New Intelligent Relevance Search Experience is here.
Effective from November 2020 Microsoft has  introduced an Intelligent Relevance search in dynamics 365 which enhances the following searching capabilities and benefits.
The search bar is now centred in the header for ease of access
The search bar is right in the middle, and convenient. We really like this change and makes searching much quickly than before.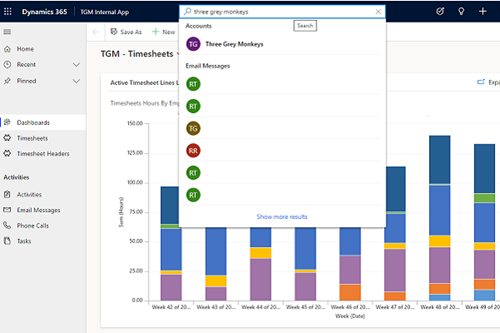 New recent searches and recently accessed records list
As soon as you focus on the search bar you will see recent searches and recent records you have accessed making it much quicker to find what you are looking for.
Suggested results as you type
As you type you now receive search results meaning you are likely to need less keystrokes to find what you are looking for.
Improved results page
The improved results page makes it easier than ever to find the information you are looking for.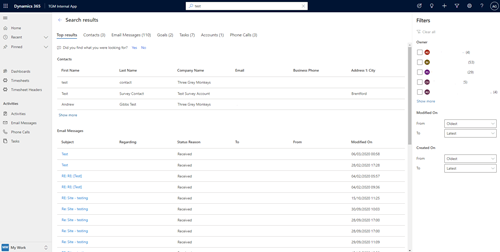 in addition to the key visual changes above the new search also has the following benefits:
Finds matches to any word in the search term in any column in the table, compared to quick find where all words from the search term must be found in one column.
Finds matches that include inflectional words like match, matching, or matched.
Returns results from all searchable tables in a single list sorted by relevance, so the better the match, the higher the result appears in the list.
Highlights matches in the results list. When a search term matches a term in a row, the term appears as bold and italicized text in your search results.
Allows you to use syntax in your search term to get the results you want.
Includes search results for text in a document that's stored in Microsoft Data verse, including text in notes, email attachments, or appointments. The following file formats are supported for search: PDF, Microsoft Office documents, HTML, XML, ZIP, EML, plain text, and JSON. Note, that File data type is not supported.
How do you enable the new search?
To enable the new Relevance Search experience:
In the Power Platform admin centre, select an environment.

Select Settings > Product > Features.

Under Search, set Use new search experience to On.
Note: To enable the new search experience, you will first need to ensure you have the relevance search enabled.
Want to keep informed?
Recent Articles
View all Articles
Popular Tags
Contact Us
Business Hours
Monday-Friday: 9.00am to 6pm
Our
Featured

Clients and Partners

Here are just a selection of our Partners and Clients
World Animal Protection

Thirdway Interiors

Denver Zoo

Vuzion

Click Dimensions

Barracuda