SharePoint, Office 365 and Teams
Office 365 is a fantastic product, it is straightforward to setup and means you can easily obtain your online exchange/mailboxes, Microsoft Teams, and SharePoint to store and manage your files and documentation and related workflows. Obviously there is much more that can be done under the Office 365 suite including Dynamics 365 with full integration to SharePoint and your online exchange out of the box.
There are occasions though where there is a need for third party tools to enhance this experience and further protect your business.
Does Office 365 handle data backups for you?
Microsoft takes care of quite a lot for companies it manages their Office 365 infrastructure and maintains up-time for their users. However, it does not back up their data.
Office 365 and SharePoint do have some protection built in against accidental deletion of files, or specific folders in SharePoint and holding deleted users in office 365 for 30 days. But it doesn't have a full option to backup your SharePoint data and mailboxes, and manage the retention of that data.
If data is deleted or becomes corrupt due to a breach, it is going to be hard to retrieve everything easily, if at all.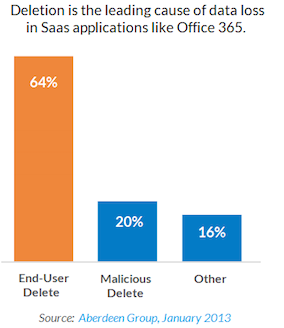 Office 365 backup should therefore be a critical part of every company's disaster recovery plan.
Avoiding corrupt data through a breach is obviously a priority, and setting up 2 Factor Authentication along with other security measures is a priority. However protecting against user error, or data loss if it were to happen requires a backup solution to ensure your data is always available. This is straightforward to put in place using a Cloud to Cloud Backup Solution.
SharePoint and Office 365 Cloud to Cloud Backup Solution
The good news is that it is straightforward to get you up and running with a full backup of SharePoint, and your exchange online mailboxes and office 365 data.
Costs start from £2.40/Licensed User/Month and really is something worth investing in. Large volume discounts are also available.
The Cloud-to-Cloud Backup Service backs up all of your Office 365 data to secure Cloud Storage with no need for on-premises infrastructure. You can back up data on demand or according to an automated schedule. All Exchange Online, SharePoint Online, and One Drive for Business data is deduplicated and compressed for maximum storage efficiency and reduced backup windows before being stored in the Cloud. There is no limit of the amount of data stored, and no extra costs for large data sets.
Exchange Online.

 The solution

 protects the complete folder structure of each user's mailbox including all email message and attachments.
One Drive for Business.

 

All files and folders under the Documents Library are protected.
SharePoint Online.

 

We protect SharePoint data including Document Libraries, Site Assets, and Picture Libraries within both Team Sites and Public Sites are protected.
 The solution comes with Fast and Easy Recovery Options and Powerful Reporting and Statistics.
If you are interested in us getting you up and running with backups to protect your business and its data, please get in touch and we would be happy to help.